Radnički kolektiv - Workers' collective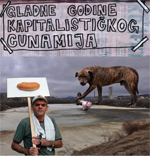 Year: 2013
Newspaper, 16 pages
Authors: Vladan Jeremić, Rena Rädle.
With a supplement by Saša D. Lović.

A re-print of the first issues of the newspaper "Bor collective" from 1947-1948 that is recontextualized and updated through interventions on the historical materials. With drawings, slogans and montages of archive photographs of the coppermine Bor and workers' strikes from the last decade, the question of workers rights and workers control are raised. Realized with the digital archive materials of the Local Department of the National Library of the city of Bor.
Download scan of the newspaper

Distribution of workers' collective in front of the main gate of the Mining and Smelting Basin of Bor (RTB): View video



The Pull Factor/
Under The Bridge - Helsinki



Zine,22 pages,Helsinki 2011

Published by X-OP network.
Investigation about the public discourse about Roma migrant workers in Helsinki with the X-OP study group.
Authors: Vladan Jeremić et al.

Download zine:
Pdf in web resolution 2,2 MB
Cover in print resolution 2,8 MB
Pages in print resolution 6,7 MB
Supplement 4 MB



Transitional Justice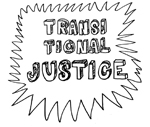 Year:2009
Newspaper, 16 pages
Editors: Vladan Jeremic, Dmitry Vilensky
Authors: Dušan Grlja, Boban Stojanović, Biljana Stanković Lori, Rena Raedle, Vladan Jeremić, Nebojša Milikić, Dmitry Vilensky, Olga Egorova Tsaplya
Translation: Marko Mladenović
Drawings: Zampa di Leone, Glukya
Production: Biro za kulturu i komunikaciju

The publication of this issue is self-financed and produced with the support of the exhibition project "re: ex-post. Critical Knowledge and the Post-Yugoslavian Condition", January 20th until February 14th, 2010, Open Space, Vienna, Austria.

Download pdf



Psychogeographical Research, Rädle & Jeremić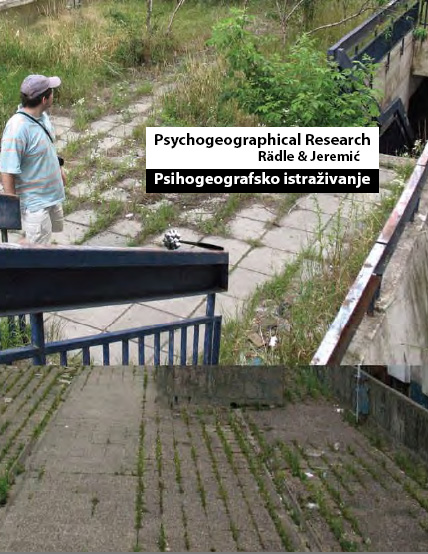 Catalogue and reader, 144 pages, english, srpski, Novi Sad, 2009

Published by The Museum of Contemporary Art of Vojvodina, Novi Sad, Serbia at the occasion of the exhibition under the same title.
With texts by Sezgin Boynik, Suzana Milevska and Gordana Nikolić.

Download introduction,pdf, 1,1 MB
Download whole book,pdf, 3,5 MB



Psychogeographical Research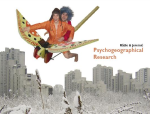 Booklet, 20 pages, 2007

Documentation of a number of psychogeographical researches in Serbia and Germany in photos, video recordings and scripts.

Psychogeographical Research, pdf, 1 MB
website


Novi život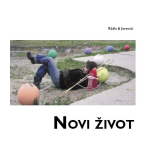 Booklet, 40 pages, Novi Sad, 2006

Foto story about two strangers that found shelter at the river bank of the Danube, a psychogeographical research in Novi Sad and Sremska Kamenica in 2005

Novi život, pdf, 2,4 MB


Under the Bridge - Beograd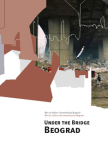 Book, 80 pages, Novi Sad, 2005

Documentation of a research about Belgrade with a group of artists and activists from different backgrounds in December 2004. The central event was a meeting with the refugees and migrant workers living under the Gazela bridge.

Editors: Vladan Jeremić and Rena Rädle
Design: Ricarda Wallhäuser
Authors: Vladan Jeremić, Maja Ćirić, Siniša Cvetković, Dragan Ignjatov, Zorica Jovanović, Stephan Kurr, Predrag Miladinović, Tanja Ostojić, Dr Agan Papić, Ivana Ranković, David Rych

Under the Bridge, pdf, 2 MB
http://birobeograd.info/UTB01


OUT1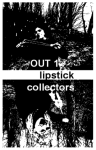 Zine, 24 pages,Novi Sad, 2004

Documentation about OUT PRAXA in texts and pictures.

OUT1, pdf, 1,3 MB
http://out.modukit.com

The Housing Question Installation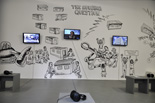 Year: 2013
Installation with videos and drawing, 2013
Authors: Rena Rädle, Vladan Jeremić

The installation "The Housing Question" deals with the reality of Roma and other precarious migrant workers through case studies, in three different European cities, Belgrade, Helsinki and Rome, and tries to critically reflect on the issue of accumulation by dispossession and displacement in neoliberalism and expose the connection of these processes to racism.

The installation contains the videos "The Housing Agenda" (Helsinki, 2011-12), "Belleville" (Belgrade, 2009) and "The Housing Question" (Rome, 2013).



The Housing Question Video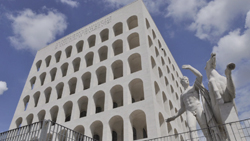 Year: 2013
Video animation with drawings and photographs, 11 min
Authors: Rena Rädle, Vladan Jeremić
View excerpts of the video

In order to unmask the models of market-oriented welfare and the commercialization of public services to the European precarious class who is denied the right to urban living, Rädle & Jeremić point to the perfidious system developed in the city of Rome, where Roma are housed in ghettoized container settlements and monitored by security guards. The video animation "The Housing Question" incorporates animated drawings of the city of Rome and the speech of three characters: an elderly woman who survived a concentration camp in Germany and two younger male characters who live in contemporary ghettoized settlements in Rome. The animation emphasizes the continuity of European racist policies towards Roma, situating their speech in the familiar historical setting of the city or places in Rome such as Casilina 700 and 900 where settlements have been demolished and their inhabitants relocated to containers.



The Housing Agenda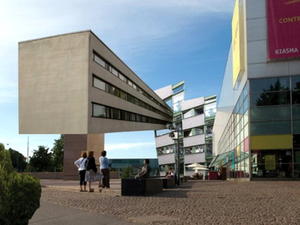 Year: 2011-12
Staged debate, photo-collages and video, 28 min
Authors: Rena Rädle, Vladan Jeremić
View excerpts of the video

A project created to generate new proposals directed towards solving the dire housing problems faced by migrant workers in Europe.

After forced resettling and demolition of a Roma settlement in Helsinki in 2011, Rädle & Jeremić invited activists, politicians and theorists to participate in a debate about the possibility of building a trans-urban network of "hotels for precarious workers" in European cities as well as a series of proposals for the establishment of uniform principles for local housing solutions which would be realized in Helsinki and elsewhere in Europe. The video "The Housing Agenda" presents the main principles regarding the given issue.



Belleville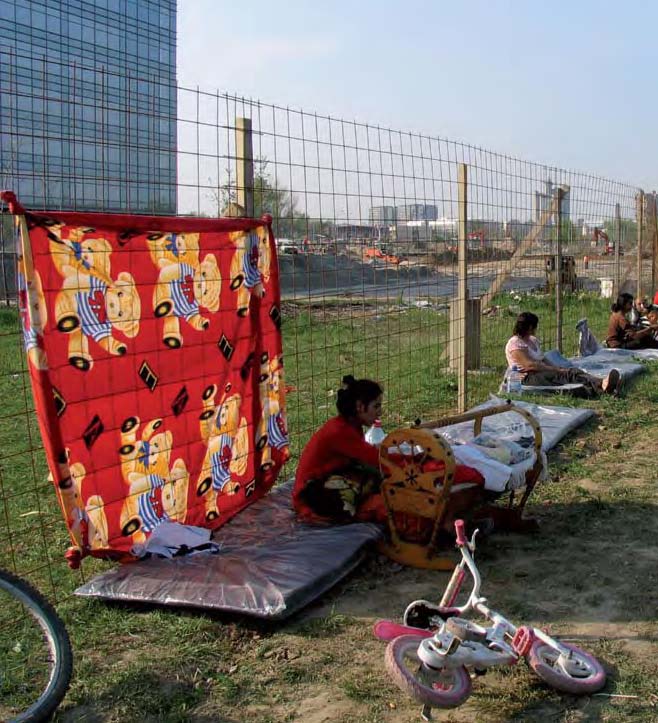 Year: 2009
Video, 22 min
Authors: Rena Rädle, Vladan Jeremic
View excerpts of the video

Video "Belleville" emerged out of the protest of Roma families following their forced eviction and demolition of their houses for the sake of construction works related to the sports manifestation "Universiade 2009" in Belgrade.



Roma Solidarity Protest March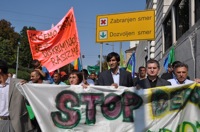 Year: 2010
Documentation
Author: Rena Rädle
View pictures



Gazela. Temporary Shelter from 100-500 Years



Year: 2009
Video, documentation
Authors: Saša Barbul, Sali Kadrijaj, Rena Rädle, Vladan Jeremić



Partisan Songspiel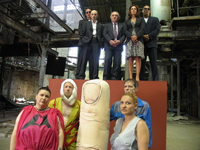 Year: 2009
Video
View video on vimeo

In the form of a Songspiel, the film brings a political analysis of the class struggle on the example of the forced eviction of the Roma settlement "Belleville" at the occasion of the "Summer Universiade Belgrade" in 2009.

Authors:
Script: Vladan Jeremić, Rena Rädle, Dmitry Vilensky & Tsaplya
Director: Olga Egorova (Tsaplya)
Set: Vladan Jeremić, Tsaplya, Rena Rädle, Dmitry Vilensky
Costumes: Natalya Pershina (Gluklya)
Choreography: Nina Gasteva
Camera and lighting: Artem Ignatov
Editing and Post-Production: Olga Egorova (Tsaplya) and Dmitry Vilensky
Production: Biro Beograd za Kulturu i Komunikaciju



Partisan Songspiel - Monuments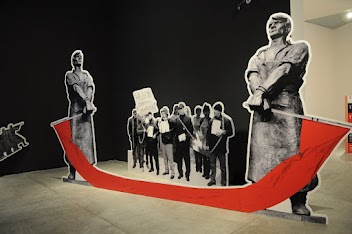 Year: 2012
Photo-collages
Author: Vladan Jeremić

The installation Partisan Songspiel Monuments by Vladan Jeremić brings together images of the contemporary politics and past of the Socialist Yugoslavia. It consists of the LGBT&Roma Activists' Monument, Workers' Monument and Neo-fascist Group. The "monuments" are constructed from the images of the significant political protests during the period of so-called "economical and political transition" in the countries of former Yugoslavia and historical monuments of the Socialist Yugoslavia erected to commemorate People's Liberation Struggle against Fascism in the WWII.

View pictures from opening at MUAC, Mexico



A Visit to Staro Sajmište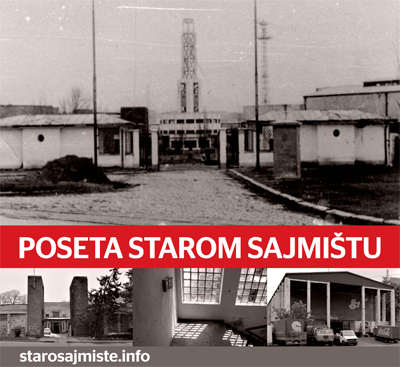 Year: 2010-11
Research and documentation about the past and present of the former NS concentration camp Sajmište in Belgrade.
Authors: Rena Rädle, Dirk Auer, et al.
View site



World Communal Heritage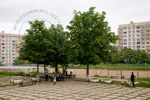 Year: 2010
Campaign, documentation
Authors: Rena Rädle; Vladan Jeremic
View site



Writing on The Sky



Year: 2008
Photographies, documentation
Authors: Nannette Vinson, Rena Rädle
Downoad pdf



Monument Series



Year: 2007
6 photographies, computer print
Authors: Vladan Jeremić, Rena Rädle
View photos



Fruška Gora



Year: 2004
Duration: 10 mins.
Original: DV
Authors and realisation: Vladan Jeremić, Rena Rädle
View excerpts from the video



Under the Bridge Beograd



Year: 2004/05
Duration: 30 mins.
Original: DV
Authors and realisation: Vladan Jeremić, Rena Rädle camera: Rena Rädle, Minna Henriksson



SENDI



Year: 2003
Duration: 10 mins.
Original: DV
Authors and realisation: Vladan Jeremić, Rena Rädle
http://sendi.modukit.com
View excerpts from the video



Potsdamer Reloaded



Year: 2003
Duration: 5 mins.
Original: DV
Authors and realisation: Karsten Asshauer, Martin Wrede, Mindaugas Gapsevicius, Ricarda Wallhäuser, Matthias Roth, Marzia Belvisi, Vladan Jeremić, Rena Rädle
View excerpts from the video



Gastarbeiter


Year: 2003
Duration: 6 mins.
Original: DV
Authors and realisation: Vladan Jeremić, Rena Rädle
View video



Drugarica



Year: 2002
Duration: 6 mins.
Original: DV
Authors and realisation: Vladan Jeremić, Maja Rakočević
View video



Arhiv dešavanja
Online video archive
Online Projects
2011-:
A Visit to Staro Sajmište
2010-:
World Communal Heritage
Interviews, Texts and Theory
2013:
"Romi su prekarni radnici Evrope", Novosti
"Umetnička praksa i socijalne borbe", Uzbuna
"Notes on Curatorial Artistic Practices at the Intersection of Art and Politics", On curating
2011:
Das Lager Sajmište in Belgrad - ein vergessenes KZ? (pdf)
Logor "Sajmište": zaboravljeni koncentracioni logor? (pdf)
2010:
Partizipation um jeden Preis?
2008:
From Soros Realism To Creative Class (pdf)
2007:
Erasing of Context Through Hyper-Production (pdf)
Financing of Non-Governmental Organizations
2006:
Umetnost i anarhizam
Radio emisija o Novom Beogradu
Čovek čije želje nisu želje drugog
2004:
Realisation of the Situationist Projections
HoRRorkatZe macht Terror
Polygonal Theory
SENDI Praxa



Stories
2005:
Horrorkatze
Sendi
2004:
Under the Bridge Beograd
Bottle of Sand
Moćni Irwasi
Creative Place
2003:
Niemann
Swalloweurope
New Kenia
2002:
3dsf3
Redundant Feature
Docubräu website,
Docubräu video
Peaholder Stories
Vladan Jeremić
jeremic.vladan(at)gmail.com

Rena Rädle
renaraedle(at)gmail.com

You are visiting our archive with works from 2002-2013.

Our current site you'll find here: https://raedle-jeremic.net


Exhibitions
Kraljevic Gallery, Zagreb, 2013

NGBK, Berlin, 2013

Thealit, Bremen, 2013

Collegium Hungaricum, Berlin, 2013

Contemporary Art Center of Thessaloniki, 2013

Red House Sofia, 2012

Maison Folie Wazemmes - Lille, 2012

15. Pančevo bijenale, Oktobar XXX, 2012

Cable Factory Gallery - Helsinki, 2012

"Absolute Democracy" - steirischer herbst & < rotor >, Graz, 2012

"I will never talk about the war again" - KIBLA, Maribor, 2012

MUAC, Mexico, March 2012
>> pdf

SKUC Gallery Ljubljana, 2011

Myymälä2 gallery, Helsinki, 2010

Trøndelag Centre for Contemporary Art, Norway, 2010

ICA Institute of Contemporary Arts, London, 2010

Cultural Center of Belgrade, 2010

Babel Art Space, Trondheim, 2010

Museum of 25th May, Beograd, 2009

Open space, Vienna, 2010

Istanbul Biennial, 2009

Tirana Biannual, 2009

Tallinn Art Hall, Estonia, 2009

Museum of Contemporary Art
Vojvodina, Novi Sad, 2009

Gallery Hinterconti, Hamburg, 2009

Centre culturel de Serbie, Paris, 2009

49th October Salon, Belgrade, 2008